Santorini Greece Travel Guide 2023
Santorini is likely the most well-known Greek island. It is a popular stop for cruise ships and attracts many senior travelers and honeymooners. Santorini is a lovely island with a great deal to see and do, including its famous sunsets, historic ruins, and various vineyards. Even though it is one of the most popular islands in Greece, it is large enough to offer peaceful spots away from the overwhelming people. This Santorini Greece travel guide will help you plan your vacation and maximize your time without breaking the budget!
Arrival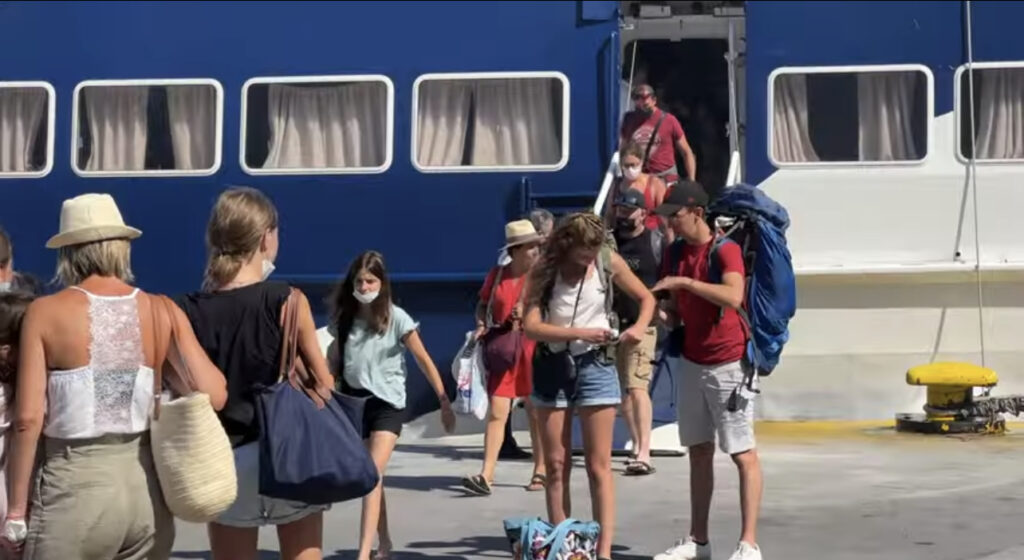 These routes are quite popular, so if you want a shot at a reasonable cost, you'll need to purchase your airline tickets months in advance. Reserving a shuttle service at the airport is also recommended to avoid paying exorbitant taxi fares. It will alleviate the hassle of getting transportation to your accommodation and save you time.
Car rental in Santorini Greece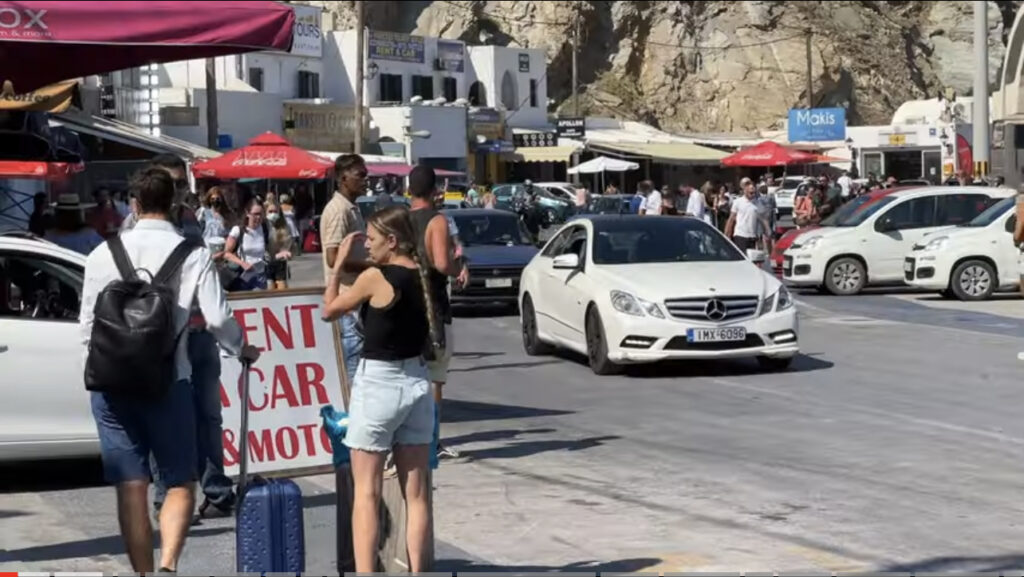 The best way to see as much as possible of Santorini's magnificent sunsets, blue-domed churches, and quaint Greek towns and villages is to rent a car. According to this travel guide, car rentals can be reasonably cheap. Demand during the busy summer months can be relatively strong. Therefore it is advisable to reserve a car in advance to ensure availability. It is advisable to avail of car rental services in Santorini so that you may discover everything the island offers for your leisure.
Places to Visit in Santorini Greece travel guide
Caldera View Restaurant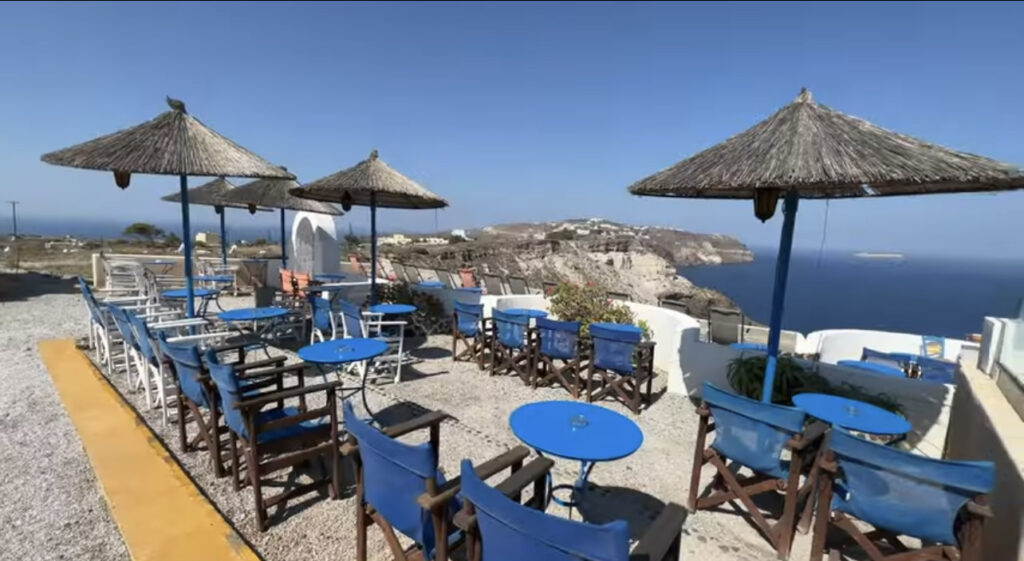 The Santorini Greece travel guide advises you to dine at the Caldera Restaurant, which serves the finest Mediterranean and local food and boasts breathtaking views of the Aegean Sea, the sunset, and the volcano. The breakfast menu at Caldera Restaurant is innovative and full of taste, perfect for a refreshing start to your day. Traditional dishes are crafted from high-quality, locally sourced ingredients with unique flavors and combinations. A selection of local wines pairs splendidly with each dish, allowing each diner at Volcano View, which boasts a direct and unobstructed view of the volcano and the sea, to enjoy an utterly unforgettable dining experience!
The Ancient Town of Akrotiri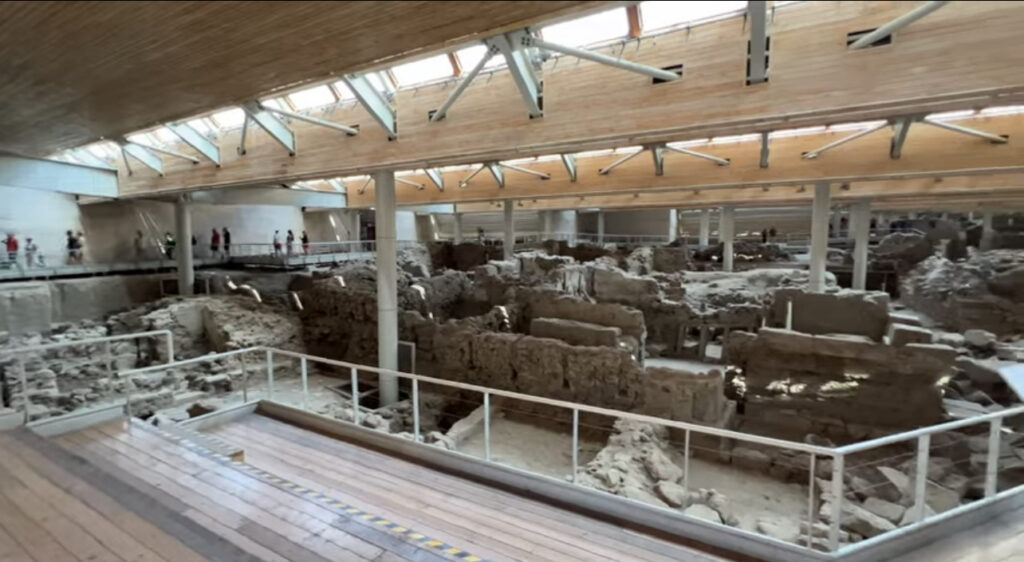 Akrotiri is a 3,500-year-old city that was among the most critical Minoan towns and Aegean Sea ports. In the 17th century BCE, an eruption buried Akrotiri in volcanic ash, garnering it the nickname "Pompeii of Greece." Streets, buildings, stairwells, and even the second floors of structures remain pristine. The excavation site has a roof, making it more comfortable to visit during summer. Tickets are 12 EUR.
Daily Cruise Port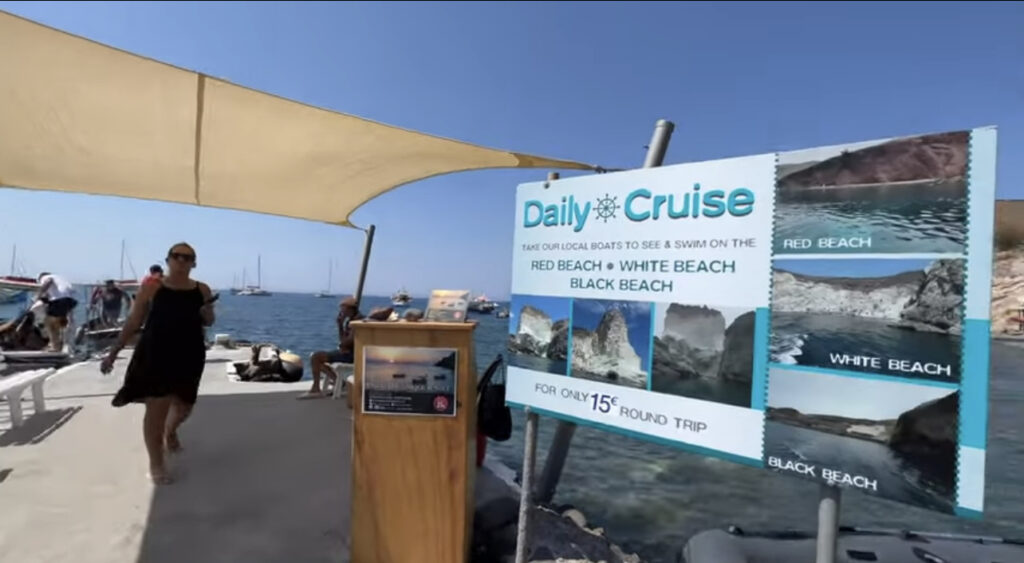 When traveling, make the most of each moment. You can take a day cruise from the Port of Akrotiri to the Red sand beach, White sand beach, and Black sand beach. The charge per person for a round-trip cruise is 15 euros.
Red Sand Beach, Santorini Greece travel guide
There are a lot of beaches in santorini Greece,Red Sand Beach is one of them. Red Beach is renowned for its bright red volcanic coastline that frames the azure Mediterranean Sea. Other Santorini beaches are better for swimming and sunbathing, but Red Beach is worth a quick visit for its natural beauty. Moreover, This travel guide suggests that it is an ideal place for snorkeling. Located 20 minutes by car from Fira to Akrotiri, the beach is only a short walk away.
Perissa Beach
The beautiful Perissa Beach is located at the base of Mesa Vouno Mountain, which separates Perissa from Kamari. On its summit, you can view the renowned archaeological site of ancient Thera and a breathtaking panorama. According to the Santorini Greece travel guide, its global nature is evident day and night in the vibrant clubs and beach bars where many young people congregate. Nonetheless, the beach is essential and significant for both young and old, as it offers something for everyone.
Kamari Beach
Kamari Beach is one of Santorini's most renowned and frequented beach resorts. It lies in the coastal village of Kamari, 10 kilometers southeast of Fira and close to the airport. At the base of the majestic Mesa Vouno Mountain is the important archaeological site of Ancient Thera. The village of Kamari is lined with ancient cottages offering a breathtaking sea view. Visitors can enjoy a pleasant stroll along the waterfront. During peak season, the town is quite popular with tourists because of its modern amenities, which include hotels, restaurants, snacks, cafes, bars, and nightclubs.
Food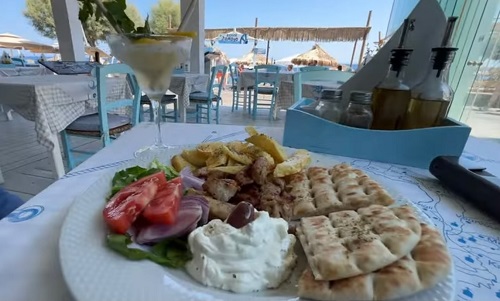 Santorini has a wide array of cuisine options. In contrast to Fira, eateries in Oia serve predominantly Mediterranean food. In a restaurant on the caldera, you may dine or drink with a breathtaking view of the sunset for a steep price. The most excellent approach to save money is to avoid beachfront restaurants and find a place to eat on the side streets. According to the Santorini Greece travel guide, Greek salad is one of the most common foods in Santorini. They will be on every restaurant's menu. The standard components of a Greek salad include tomatoes, cucumbers, onions, olives, and feta cheese. They are combined with oregano, salt, and olive oil as a seasoning. 
ATM transaction tips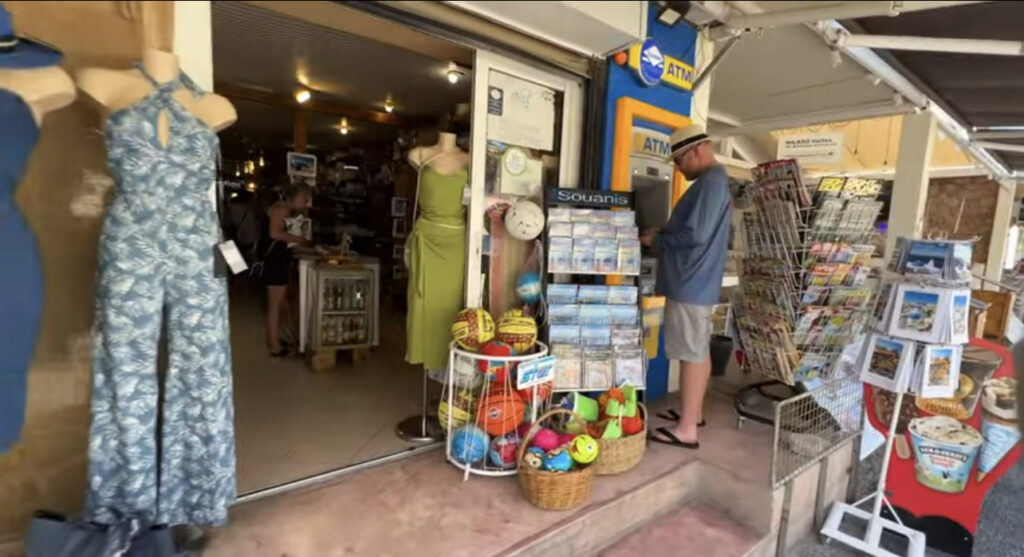 The currency in use is the Euro. Make sure to bring enough euros for your trip to avoid any complications. Cash is still the most popular form of payment; however, credit cards are also widely accepted. According to the Santorini Greece travel guide, you should avoid using Euronet ATMs due to their hefty service fees. For example, if you intend to withdraw 200 EUR, you will be charged a transaction fee of 240 EUR. Better to be prepared with cash to avoid these fees!