Istanbul Turkey Travel Guide
Istanbul is where east meets west. It has two sides: Asian and European. The European side is for tourists, whereas the Asian side, often known as the Anatolian side, is for business. A city of 15.5 million inhabitants, while some estimates put the total population at more than 25 million. Istanbul is famous for its bazaars, great Turkish food, mosques, Roman history, and the Ottoman Empire. Here is the Istanbul Turkey travel guide to make you helpful.
Istanbul is the country's cultural capital, with many independent galleries, and innovative restaurants, and its transit hub, with flights to and from all over Turkey and the world. Istanbul airport is among the top 10 busiest airports in the world. Each neighborhood has its distinct identity and vibe, and it's easy to spend weeks in Istanbul and never see it all. But that's what makes it so intriguing—always, something is beckoning you back for more. So grab a cup of Turkish coffee or tea and a piece of pistachio baklava and prepare to be enthralled by this fascinating metropolis. Below is helpful information about Istanbul Turkey for your next vacation!
Best time to visit Istanbul Turkey
When the weather is bright and mild, spring (April-May) and autumn (September-October) are ideal times to visit Istanbul. The city-wide Tulip Festival takes place in April when the city's parks and green spaces are adorned with colorful bulbs. The town becomes sticky and very hot in the summer, and most residents flee to the beaches to the south as soon as they can, but the streets are alive all night when the air cools off a little. Winter in Istanbul is gray and rainy, revealing the city at its most moody and evocative.
Food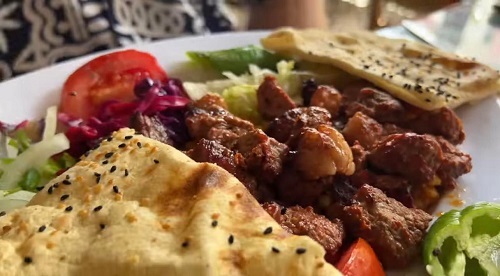 Another unique piece of information that you can know in the Istanbul Turkey travel guide is the food. Turkish cuisine is diverse and well-known throughout the world. Istanbul is like a melting pot of cultures, and these influences positively impact the food scene. So, forget about the international food chain while you're here and enjoy authentic Turkish cuisine. Turkish breakfast habits differ slightly from those of Europeans. For starters, tea replaces coffee. Sliced tomatoes or cucumbers are also essential for a Turkish breakfast.
Places to Visit, Istanbul Turkey Travel Guide
Column of Constantine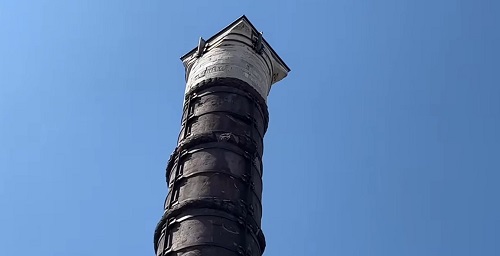 The column was built to honor Constantine in 330 AD when Istanbul was designated as the capital of the Roman Empire. It stood in the center of a large oval-shaped square on top of Istanbul's second hill. The Forum of Constantine was the name of the courtyard surrounded by colonnades.
Hagia Sophia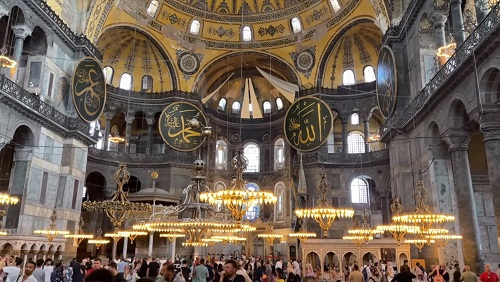 Visiting this place is a must for the Istanbul Turkey travel guide! The Hagia Sophia has had many identities: it was a Byzantine church, an Ottoman mosque, and a secular museum, and it is now back to being a mosque. Visitors must follow the rules of Turkish mosques and dress appropriately, but there is no longer a fee to see the ultimate palimpsest of a building. While some famous mosaics and frescoes have been covered, many others can still be seen.
The Galata Tower, Istanbul Turkey Travel Guide
Galata Tower, built by the Genoese in the 14th century, is an iconic part of Istanbul's skyline. It provided excellent surveillance from within the city's walls and was critical to military operations. During the Ottoman Empire, the tower was used as a fire detection tower before converting it into a prison during the reign of Sultan Suleiman. Besides, you can climb to the top for some of the city's best views, especially at sunset.
Blue Mosque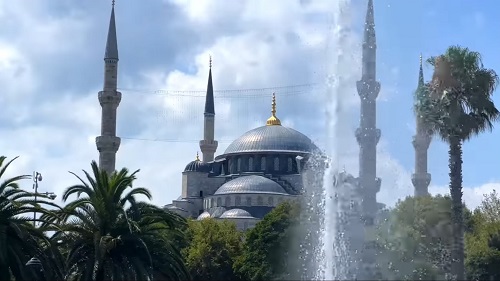 In its official name is the Blue Mosque in Istanbul is known as the Sultan Ahmed Mosque. According to the Istanbul Turkey travel guide, it is a popular tourist destination due to its history and importance to the Ottoman Empire and the city of Istanbul. Many people continue to visit the mosque to admire its architectural beauty and participate in the daily prayer services that are still held there.
Museum of Turkish and Islamic Art Istanbul turkey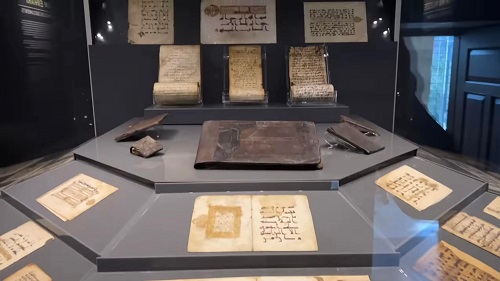 The Museum of Turkish and Islamic Arts was Turkey's first museum to collect Islamic art. It was established in 1914, as the Museum of Islamic Foundations and is housed in the Imaret building of the Süleymaniye Complex. Built in the 16th century by the great Turkish architect Sinan. After the republic was declared, it was renamed the Museum of Turkish and Islamic Arts and relocated to its current location in the 16th-century Ibrahim Paşa Palace in 1983.
Things to Do
Bosphorus Boat Tour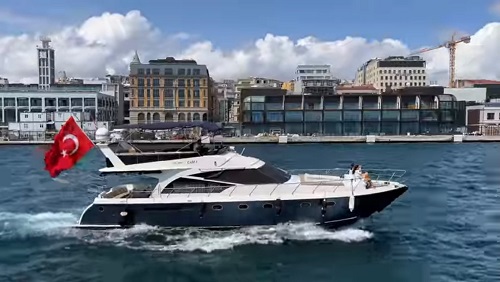 A Bosphorus Cruise is an excellent way to see Turkey from an entirely new perspective. The glittering sapphire strait is your front-row seat to witness Turkey's dramatic landscape unfold. Selecting the right Bosphorus cruise for you can be daunting due to the wide variety and combo tickets. The ideal way to pick a tour is to figure out what kind of experience you want — if you want to enjoy a meal, see a Turkish dance, explore famous landmarks, visit a new place, and then choose a suitable ticket.
Shopping at Grand Bazaar
The Grand Bazaar in Istanbul is one of the world's largest and oldest covered markets, encompassing an entire buzzing hive of artisans and merchants spread across 60 streets and 4000 shops. Come for traditional Turkish carpets, gold and silver jewelry, leather goods, and more—and don't forget to sit, share a cup of tea, and haggle.
Shopping at Egyptian Bazaar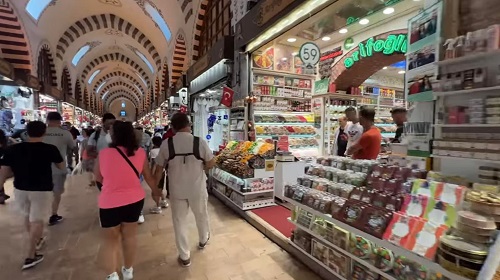 This fragrant covered market, built in the 17th century, is brimming with spices ranging from tangy sumac to smokey Urfa pepper to Turkish saffron. Vendors also sell Turkish delight, ceramics, and other non-spice items.
Strolling around Taksim Square
Taksim Square is a cosmopolitan communications hub and a substantial commercial, entertainment, and sightseeing area in Istanbul for locals and tourists. Taksim Square is also a popular meeting place and an ideal starting point for an Istanbul city walking tour. Many popular tourist attractions, such as restaurants, pubs, bars, cafes, sights, and museums, are located along the square.
Take the Hop on Hop off Bus
Istanbul Turkey travel guide suggests the hop-on hop-off bus tour as it provides an excellent overview of Istanbul, including a crossing of the Bosphorus Bridge into Asia and a stop at the Beylerbeyi Palace. It makes 11 stops at some of the city's most exciting sites. You can hop on and off as often as you like or stay on board for the whole route.