10 Best Greek Islands For Couples
The Greek Islands are perhaps one of the world's most romantic vacation destinations for couples. If you're looking for a romantic getaway, a relaxing beach holiday, or a chance to explore charming fishing villages, the Greek islands have it all. Whether you are celebrating a special anniversary or are headed out on a honeymoon, here, based on a survey of staff and several other sources, are the 10 best Greek beautiful islands for a romantic holiday.
Best Greek Islands for Couples to Visit in 2023
1. Santorini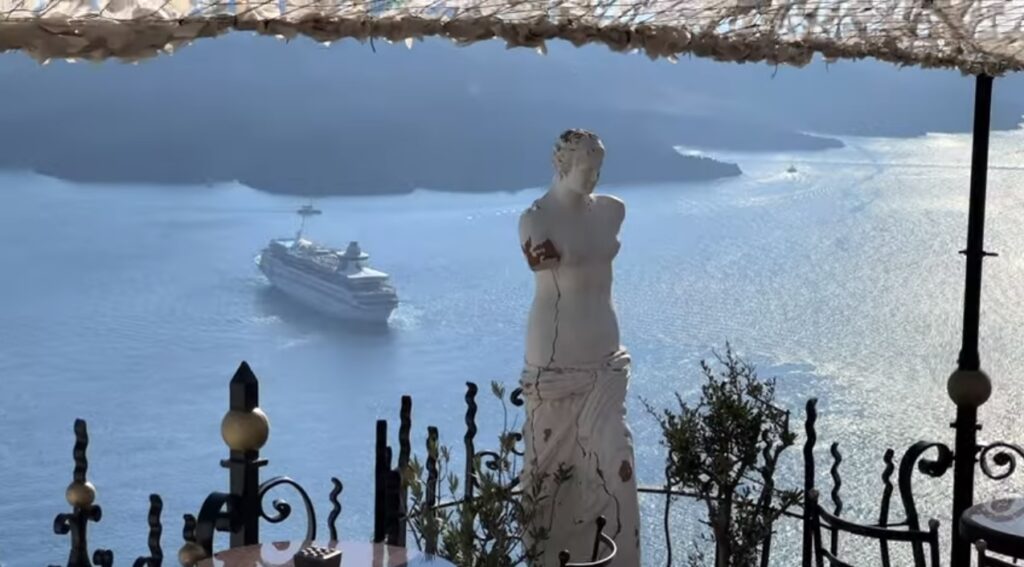 Santorini makes almost every list of romantic Greek islands, and deservedly so. On this large Greek island you enjoy a champagne breakfast, then go strolling hand in hand past the nigh-iconic whitewashed buildings of the cliff-top villages together, take a cozy little dip in the local hot springs, enjoy a wine tasting at one of the local wineries, or just relax and unwind on the popular Red Beach and stay in one of the many boutique hotels with sea views. Watch the sunset over the brilliant, blue Aegean Sea from the privacy of your own intimate terrace, and then enjoy a romantic dinner for two at a lovely local restaurant.
2. Mykonos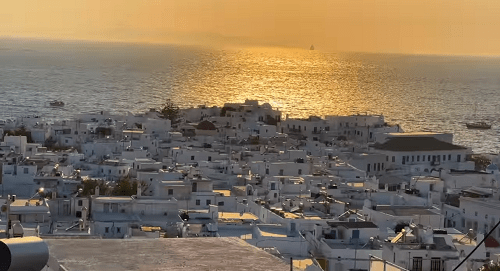 The pretty "Island of the Winds" is frequently compared to Ibiza because it's a great place for couples looking for exciting nightlife as it features a number of different bars and beach clubs. Arguably one of Mykonos' most romantic places is the adorable Mykonos Town. It's a popular traditional whitewashed town that includes some of the best restaurants and shopping spots in all the Greek Islands. Veteran visitors recommend dining at Little Venice for a memorable sunset view. If long walks on the beach float your boat, visit the romantic, private beach at the Santa Marina Mykonos luxury resort.
3. Naxos
Naxos is the Cyclades' largest island. If you and your special someone want a less-developed romantic getaway then this isle should be high on your list of options. Indeed, Naxos is significantly less developed than Mykonos, Santorini, and Paros as well.
Nevertheless, you will still enjoy authentic Greek villages, beautiful beaches, and even ancient ruins. The main town of Chora, a.k.a. Naxos Town makes a great home base. It features narrow stone streets, traditional tavernas, and a short drive away, Plaka Beach where you can have fun in the sun and dinner at one of the restaurants there.
4. Paros
This is one of the best European islands you may not have heard of yet. It is family-friendly because of its diverse activities and sights, But this island also includes a number of charming, traditional villages that are exceptional for lazily languishing on the beach and indulging in sunset cocktails and romantic nightcaps. Many of the local tavernas offer dinner with incredible sunset views, and in Naoussa, you can dine right on the beach. In fact, there are several well-known adults-only accommodations available in Naoussa that are especially popular with couples.
5. Milos
The volcanic island of Milos scrapes into our top five ideal locations for a memorable romantic rendezvous. Milos has a horseshoe coastline and 75+ warm, welcoming beaches complete with tempting turquoise water, and isolated, intimate cover catering to all kinds of beach-loving couples. Take a boat ride to Kleftiko and visit Sarakiniko Beach, Enjoy the cozy thermal springs and dine on world-class seafood as well. If you want privacy, head for Tsigrado Beach. It's a tad tough to reach, but it's well off the tourist track and offers more privacy.
6. Rhodes
Rhodes is nicknamed "the Island of the Knights." It is home to a number of medieval castles, settlements, and churches. If you are both history buffs, this alone makes it one of Greece's most romantic islands.
It's also easily accessible because it has its very own international airport. While it has no shortage of beautiful beaches ready for long, moonlit walks, this island's more unique, surprisingly romantic place is the Valley of Butterflies. It's a beautiful butterfly sanctuary less than half an hour from historic Rhodes Town. Enjoy some butterfly kisses!
7. Ios
Some frequent flyers refer to this island as one of the most romantic Greek islands. It includes a bit more than the prerequisite white-washed residences and idyllic beaches. While it is a sister island of Mykonos and is therefore visited by partying college kids in July and August, it is otherwise a peaceful, relaxing spot.
Stroll the narrow streets of Ios Chora, visit the island's famous, authentic windmills, and enjoy the sunset o'er the Aegean Sea. Have dinner by the port as well. There are even budget-friendly, romantic accommodations here.
8. Crete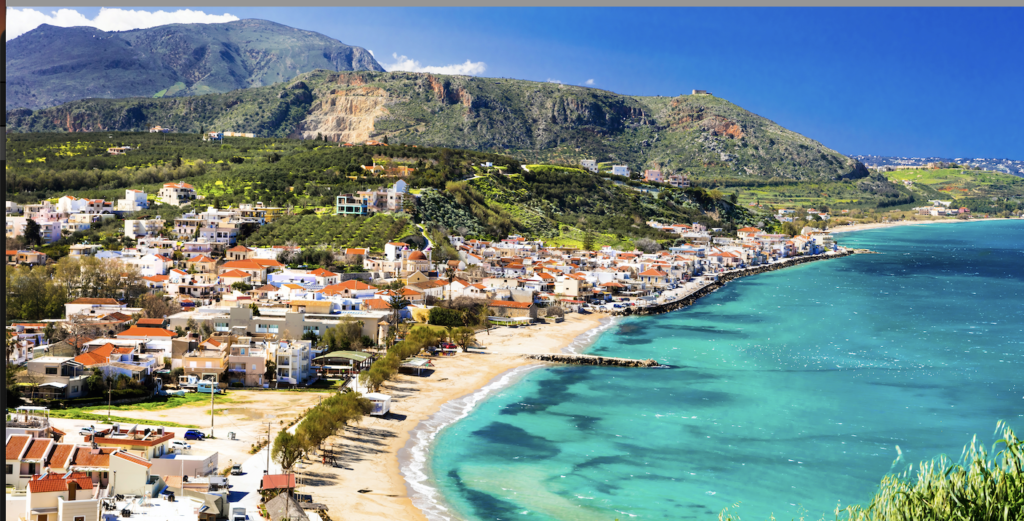 Greece's most populous and largest island also makes our list. Once a hub of Minoan civilization, today it is a perfect blend of assorted archaeological sites, stunning beaches, and assorted activities. Crete is a lot more affordable than Mykonos and Santorini.
If you prefer less explored, steer clear of the northern coast. While Chania and Heraklion both have an airport, you don't have to stay in these cities. The seaside towns of Rethymnon and Agios Nikolaos are charming and quieter. The southern coast is more remote and has the best beaches too.
9. Zakynthos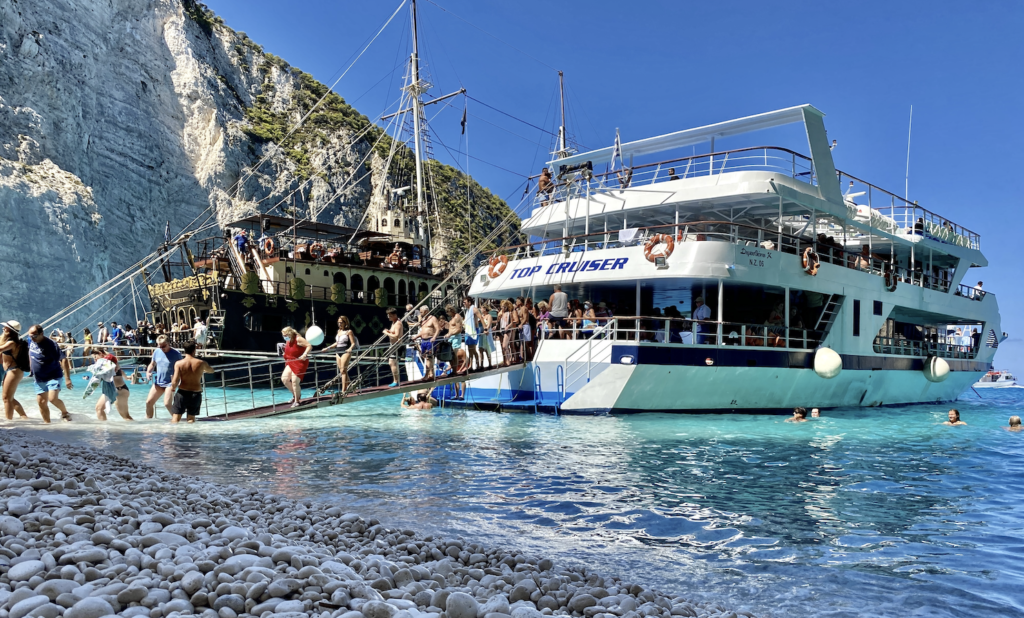 Zakynthos is the third largest of all the Ionian Islands. Due largely to the "under-30 crowd", this is now a place of both beauty and excitement. The once sleepy villages Laganas and Alykanas are currently hotspots complete with bars, dance clubs, and assorted attractive eateries.
Throw in the expected pristine beaches, turquoise water, the secluded coves and the romantic atmosphere is complete. Be sure to visit the famous shipwreck beach at "Smugglers Cove" too. Some say this place, officially known as Navagio Beach, is the most photographed place on the entire island.
10. Corfu
Last but not necessarily least on our list of best Greek islands for couples, is this Ionian island. Also known as Kerkyra, here, along with noteworthy beaches, flavorful food, impressive architecture, magnificent mountains, and numerous coastal resorts, you will also find quaint Greek villages, a vibrant old town, the Municipal Theatre of Corfu, and the intriguing old Venetian fortresses. What many travel lovers do not know is that this island actually has a rather long-standing reputation as being a very popular honeymoon choice. Indeed, the mythological literary protagonist Jason married Medea the sorceress right here in Corfu.
Greece is a beautiful and diverse destination for couples, with a wide range of islands to choose from. No matter what island you pick we are certain you will enjoy your time in the Greek Islands. If possible do consider visiting more than 1 while in the area.
Best Greek Islands For Couples FAQs
What is the best Greek island for over 50s? 
Crete is a great option for over 50s as it offers a mix of archaeological sites, stunning beaches, and various activities suitable for all ages. Its quieter seaside towns like Rethymnon and Agios Nikolaos provide a more relaxed atmosphere.
What are the best Greek islands for young couples? 
Mykonos and Ios are popular choices for young couples due to their exciting nightlife, vibrant atmosphere, and beautiful beaches.
What are the best places in Greece for couples and nightlife? 
Mykonos and Ios are known for their lively nightlife scenes, making them perfect for couples seeking both romance and entertainment.
What are the best Greek islands for beaches? 
Milos, Zakynthos, and Santorini are among the best Greek islands for beaches, offering a variety of picturesque coastal spots and turquoise waters.
Which is the best Greek island for middle-aged couples?
 Rhodes, with its rich history and romantic spots like the Valley of Butterflies, is an excellent choice for middle-aged couples.
Which are the best cheap Greek islands for couples? 
Naxos and Paros are relatively less developed than popular tourist spots, making them more budget-friendly yet charming for couples.
What are the best beach resorts in Greece for couples?
 Santorini, Mykonos, and Crete offer some of the best beach resorts with picturesque views, ideal for a romantic retreat.
Which is the nicest Greek island for couples? 
Santorini is often regarded as one of the nicest Greek islands for couples, thanks to its breathtaking sunsets, luxury hotels, and romantic ambiance.
Which is the nicest Greek island?
 While opinions may vary, Santorini is often considered one of the nicest Greek islands due to its stunning scenery and iconic architecture.
What is the most romantic city in Greece? 
Many consider Oia, a charming village on Santorini, to be the most romantic city in Greece, offering a magical setting for couples.
Is Santorini or Mykonos better for couples?
 Both Santorini and Mykonos are wonderful options for couples, but Santorini is often considered more romantic with its iconic sunset views, while Mykonos offers a more vibrant nightlife. The choice depends on the couple's preferences for a serene or lively atmosphere.